Keep Your Lip Game Strong!
words | Corinna Cooke
photography | Kelly Cappelli
styling | Jennifer O'Bannon
This year try layering red and gold eye shadow to make your eye color absolutely sparkle, and complete your look by turning your lipstick into a game of complimentary opposites.
Want to be a scene stealer? Fire up your look with a lip color that sits opposite to your main outfit color on the color wheel.
Crisp apple greens get feisty when paired with a bold, matte red.
Fierce orange tones bring out the best in sultry aubergines.
Autumn's burnt oranges take on a whole new life when positioned against a bold deep purple accented berry.
Create a soft surprise when wearing red. Instead of trying to match it with a red lip use a slightly pink neutral to make your lips look soft and luscious.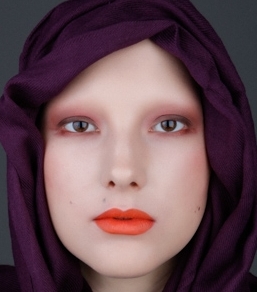 Beauty By Blake
photography | Blake Bonillas
makeup | Bryanna Casey of Phoenix Makeup Collective
hair | Jenna Alisoglu of Phoenix Makeup Collective
model | Ella signed with Arizona Model Management
3 makeup trends for Spring
With winter finally in the rearview mirror, it's time to look forward to the spring!
Spring skin needs to be gently exfoliated to get rid of the dull, lackluster surface left over from the cold months; you have to give it some extra hydration, and you have to let it glow.
Heavy winter foundations and powders need to find their way into the back of your makeup drawer and be replaced with see-through, skin loving BB Creams, tinted moisturizers or lightweight foundations.
The Spring 2017 runways featured a few different themes, but across the board and across the world, they all showed glowing, luminous skin and soft feathered eyebrows.
Here are three of the most gorgeous Spring 2017 beauty trends for the Luca girl...
TANGERINE DREAM
The breakout color for spring makeup is tangerine: a warm sunset on your skin, orange tones on eyes, cheeks and lips infuse a pretty warmth that compliments the goldy bronzes in your complexion that herald the return of the sunshine.
If it's too overwhelming as a full blown orange, you can dial it back to a peach tone or make it a combination of the various shades with an orange base.
Effortless Chic
words | Corinna Cooke
photographer | Brad Olson
styling | Risa Kostis and Kelly Stoneman
hair | Andy Biggs
makeup | Corinna Cooke
airbrush tanning | Sarah San Marco
Summer beauty is all about keeping it simple. Heavy foundations, powdery blushes and full faces of makeup are out, a radiant, glowing complexion is in. BB creams, cream blushes and bronzing gels let you look like a fashion "it" girl who has been kissed by the sun.
Hair that looks structured is out, effortless chic is in. Let your hair shine and move in the breeze.
The key to looking fabulous this season is to refine your look down to just one thing, effortless chic.
seeing red...lips
beauty editor | Corinna Bertram-Cooke
Hey there Luca girl!
With Valentine's Day being the official holiday of smooching, all eyes are going to be on your lips.
Regardless of whether you are in a relationship or whether you are single, the focus will be on your kisser.
With that in mind here at Luca Magazine we were on a mission to find the perfect lipstick for your Valetine's pout. Red? Too obvious. Pink? Too clichéd. Super glossy? Not kiss-inviting.
We found the ultimate Valentine's lipstick in our box of Tarte's Tarteist Lip Paints. The shade is Fly, the most gorgeous red-crimson/raspberry you ever saw! It's dynamic, alluring and fun. Not as intimidating as a full red, not as innocent as a light pink, this is the most chic shade of the season, and the ultimate lip shade for Valentine's Day!
Tarte's Tarteist Lip Paints are intensely pigmented, long wearing, and matte. Which of course makes them ideal to pucker up in….
Summer Sparkle
photography | Isaac Bailey
story, hair, & makeup | Heather Wilson
Have fun with shimmer and shine this Summer!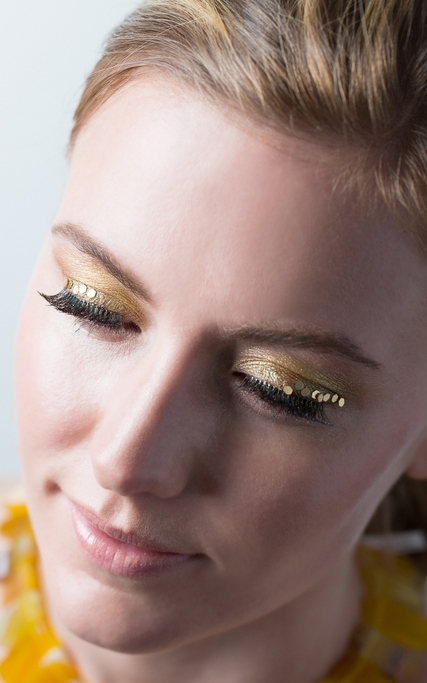 The Multi-Faceted Fearless Face
photography | Isaac Bailey
makeup | Corinna Bertram-Cooke
hair | Andy Biggs
Don't be afraid of makeup! If you mess up, you can always wash it off. Try bold colors in the fall and be fearless!